Goldast, Melchior (1578-1635)
Open in Mirador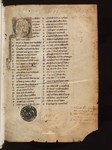 Bern, Burgerbibliothek, Cod. 354
Parchment · 274 ff. · 23.5-24 x 16.5-17 cm · Northeastern France · middle of the 13th century
Composite Manuscript: Dits et fabliaux, Sept sages de Rome, Perceval, French
This manuscript is famous primarily for its rich collection of Old French Fabliaux, a considerable number of which survive only in this manuscript; it also is considered among the most important textual witnesses for the fragment of the Sept sages de Rome and for Perceval. Because of its great importance to French poetry, it was lent to Paris at the beginning of the 19th century, was temporarily lost, and had to be re-bought by the municipal library of Bern at great expense in 1836. (mit)
Online Since: 10/08/2015
---
Goldast, Melchior (Former possessor)
Found in: Standard description
Adam de Suel (Author) | Bongars, Jacques (Former possessor) | Chrétien, de Troyes (Author) | Estienne, Henri (Annotator) | Estienne, Henri (Former possessor) | Gautier, le Long (Author) | Goldast, Melchior (Former possessor) | Gravisset, Jakob von (Former possessor) | Huon, de Cambrai (Author) | Jean, Bodel (Author) | Manuel, Jacques Antoine (Former possessor) | Païen, de Maisières (Author) | Raoul, de Houdenc (Author)
Found in: Standard description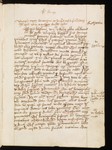 St. Gallen, Kantonsbibliothek, Vadianische Sammlung, VadSlg Ms. 69
Paper · 170 ff. · 21.5 x 16 cm · St. Gall · last quarter of the 15th century, before 1495
Casus Sancti Galli
This late 15th century manuscript contains a chronicled account, written by several authors, of the history of the monastery of St. Gall in the early and high Middle Ages, as well as several theological Quaestiones. The account is preceded by a list of abbots from the founder Otmar up to Berchtold von Falkenstein (1244-1272); a second list of abbots continuing until 1503 is added at the end. (gam)
Online Since: 03/22/2017
---
Goldast, Melchior (Annotator)
Found in: Standard description
Conradus, de Fabaria (Author) | Eccardus IV, Sangallensis (Author) | Goldast, Melchior (Annotator) | Ratpertus, Sangallensis (Author)
Found in: Standard description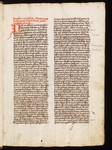 St. Gallen, Kantonsbibliothek, Vadianische Sammlung, VadSlg Ms. 70
Paper · 280 ff. · 29 x 20.5 cm · St. Gall · after the middle of the 15th century
Casus Sancti Galli; Vitae sanctorum
This voluminous composite manuscript brings together the Casus Sancti Galli, the history of the monastery of St. Gall from the early and high Middle Ages, and about 50 lives of saints in texts of various lengths, among them those of the St. Gall saints Gallus, Otmar and Wiborada. The manuscript was created in the 1450s, when relations between the monastery and the town of St. Gall were sorted out, and the monastery launched extensive reforms. (gam)
Online Since: 03/22/2017
---
Goldast, Melchior (Annotator)
Found in: Standard description
Berno, Augiensis (Author) | Conradus, de Fabaria (Author) | Eccardus IV, Sangallensis (Author) | Eucherius, Lugdunensis (Author) | Goldast, Melchior (Annotator) | Gregorius, Turonensis (Author) | Hermannus, Sangallensis (Author) | Iso, Sangallensis (Author) | Joachim, Vadianus (Annotator) | Joachim, Vadianus (Former possessor) | Ratpertus, Sangallensis (Author) | Seuse, Heinrich (Author) | Sulpicius, Severus (Author) | Theodorus, Cantuariensis (Author) | Walahfridus, Strabo (Author)
Found in: Standard description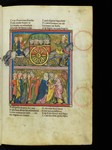 St. Gallen, Kantonsbibliothek, Vadianische Sammlung, VadSlg Ms. 302
Parchment · 296 ff. · 30-30.5 x 20.5-21 cm · Zurich · around 1300
Rudolf von Ems, History of the World. The Stricker, Charlemagne.
This Rudolf von Ems manucript originated in the same area of Zurich that produced the Manessische Liederhanschrift (Manesse Song Script). It represents one of the most accomplished examples of south German book decoration from the time around 1300, with excellent miniatures illustrating the Chronicle of the World by Rudolf von Ems and the Stricker's epic poem about Charlemagne and his military campaign in Spain. (gam)
Online Since: 05/20/2009
---
Goldast, Melchior (Scribe)
Found in: Standard description
Goldast, Melchior (Scribe) | Konrad von St. Gallen (Scribe) | Rudolf, von Ems (Author) | Schobinger, Bartholome (Former possessor) | Stricker, Der (Author)
Found in: Standard description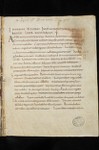 St. Gallen, Kantonsbibliothek, Vadianische Sammlung, VadSlg Ms. 317
Parchment · 108 ff. · 23 x 18 cm · St. Gall? · 9th–10th centuries / around 1460
Basilius Caesariensis, Admonitio ad filium spiritualem; Notker Balbulus, Hymni; Vita Findani; Acta Apostolorum; Visio Pauli; Cassiodorus, De anima; Andreas Bergamensis, Chronicon.
This unimposing composite manuscript contains six works of differing content types and origins, bound together under the auspices of the librarian of St. Gall in about 1460. The individual elements were produced independently of one another during the 9th or 10th century. Some are incomplete, lacking the beginning, the ending, or both. Nevertheless, this composite manuscript received attention from early on, as some of the component parts are important for the texts they transmit. This volume contains the only early medieval transmissions of the Langobard Chronicle by Andreas Bergamensis and the life of the Irish saint Findan. The "Admonitio ad filium" by the Greek church father Basilius and the "Visio Pauli", an early christian vision of the afterlife, are among the oldest of textual artifacts. (gam)
Online Since: 05/20/2009
---
Goldast, Melchior (Annotator)
Found in: Standard description
Andreas, Bergamensis (Author) | Basilius, Caesariensis (Author) | Boethius, Anicius Manlius Severinus (Author) | Cassiodorus, Flavius Magnus Aurelius (Author) | Goldast, Melchior (Annotator) | Isidorus, Hispalensis (Author) | Notker, Balbulus (Author) | Paulus, Apostolus (Author) | Schobinger, Bartholome (Former possessor)
Found in: Standard description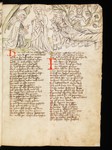 St. Gallen, Kantonsbibliothek, Vadianische Sammlung, VadSlg Ms. 352/1-2
Paper · 55 ff. · 28.5-30 x 20.5 cm · around 1440
Speculum humanae salvationis (Ger.)
The Speculum humanae salvations is a work consisting of texts and illustrations of Biblical content. Each double page of the opened book shows four images, which usually juxtapose one scene from the life of Christ with three prefigurations from the Old Testament. In the present manuscript, this order has not been sustained consistently. The Latin text source has been translated into German verses, which earlier were erroneously attributed to Konrad von Helmsdorf. The Speculum is preserved as a composite manuscript of manuscripts and printed works; several pages are missing in the beginning. (gam)
Online Since: 06/23/2016
---